Discussion Starter
·
#1
·
In my quest for improved mileage I am pursuing many things. One of these is the A/F ratio sensor. It is very difficult to weed out the good information from the garbage. Since I have a spare sensor, I decided to swap the old one tonight. But when I pulled it, I found it had white deposits.
The scratches are likely from when I pulled the sensor out of the hole.
Those deposits, I have read, can be from fuel additives (which I have used), an antifreeze leak (of which I'm not aware), and silicon (of which there has been some use around the car, in the form of silicon spray to deal with window track, plastic, etc.).
Note that in the holes the white deposit is also visible, which is Not A Good Sign. In one hole, however, it looks like the deposits have flaked off a little. I did not put anything into the hole; more on that next post.
I used an exacto knife and found that the deposits could be scraped off: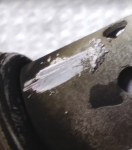 Note, below the scratched area, is another area that looks like a piece of deposit that has cracked off in the past. More on that in the next post...